How to get rid of something without throwing it away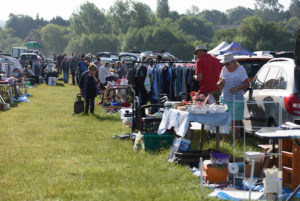 Sometimes you want to get rid of something, but simply throwing it away seems a waste. If the item is still usable or in good condition, it might be able to benefit someone else. You can either sell it or find somewhere to give it to.
If you want to sell your items, try Facebook groups, Ebay or Gumtree. You can also try a local auction house. If it's an electronic item, the electronics shop CEX is another possibility.
A car boot sale (pictured) can be a good way to find a new home for lots of different things. Don't expect to get much money for each item, but it will stop the items going to landfill.
You can also give your items away. Here are ideas of places to take them:
Building materials: The DIY store called B&Q takes some DIY materials for reuse by community groups. Ask in your local B&Q store for details.
Paint: Offer it on a local group message board (see below)
Furniture & large electrical items: many charities have special furniture shops that help them raise money. Here are some ideas: Sue Ryder, Oxfam, Red Cross.
Clothing and shoes: You could donate to a charity shop. Many car parks also have a place to recycle clothing and shoes that can still be worn.
Small electrical items: Some charity shops will take small electrical items.
Books/toys: You could donate to a charity shop or put them on a local group message board (see below)
Image: John Williams/Dreamstime