Routes to avoid at busy times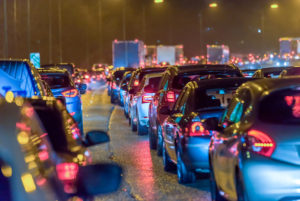 Britain is only 1,407km (874miles) long, but it has many people so journeys can take a long time. A journey of 320km (200 miles) could be 4-5 hours long in normal traffic.
Points to note:
'Rush hour' (when people are driving to/from school or work) is usually about 07.30–09.30 and from 15.00–19.00, Monday to Friday.
The best times to drive are late at night or very early in the morning (about 4am), and the middle of the day on Mondays-Thursdays.
The M25 (the road around Greater London) is Britain's busiest road by far. About 250,000 cars use it every day. In fact, 80% of the busiest parts of the UK's road network are on the M25. The worst section of the M25 is the part near Heathrow airport. It has very slow traffic for 7.5 hours a day and queues that are 6 miles long on average.
However, there are many other traffic 'hotspots'. Here are Britain's busiest roads:
London area: M25, A406. Also M1 Junctions 1-10
Manchester area: M60, M61, M62, M56. Also M6, Junctions 20–21a
Glasgow area: M8/A8
Edinburgh area: A720
Preston area: M6
Leeds area: M62
Bradford area: A650
Leicester area: M6
Birmingham area: M6
Cardiff area: A48
The roads below can also be very busy, usually because of holiday traffic to coastal areas and therefore worst at weekends:
M3
M4
M5
M20
M27
M53
M55
A11
A14
A23
A34
A38
A47
A66
A303
A590
For route planning advice, try the AA or RAC websites. can help with route planning. They also give an idea of journey time.
Highways England is the government department in charge of many large roads in England and Wales. It runs a website called Traffic England that gives information about traffic on motorways and large A-roads:
In Scotland, Transport Scotland runs a website called Traffic Scotland. You can also try local radio stations (and their websites) for updates on smaller roads while you are driving.
Image: Jevanto/Dreamstime