Why Britain loves the NHS so much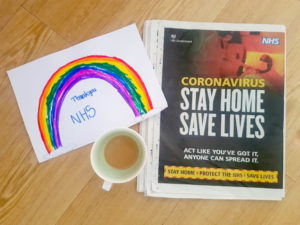 The coronavirus COVID19 put a spotlight on many aspects of British life, from politics to people's homes. A lot of it wasn't good – especially when it came to politics. But one good thing was that it became very clear what really matters to British people.
As national lockdowns were announced across the world in March 2020, most public information from governments focused on people staying home, but also a feeling of community. This included 'together against coronavirus' (Germany/India/Switzerland), 'help stop the spread' (Australia/USA) and 'set a good example' (Belgium).
In Britain, there were similar messages – but with one big difference. Our public information had an extra priority… 'Protect the NHS.'
The NHS (National Health Service) was founded in 1948 though liberal and socialist ideals, not just for treating illness, but also promoting good health. It has survived and developed despite many different governments. For British people it is a symbol of all that is best about our country – a sort of generous national auntie. With its free healthcare based on need (not the ability to pay), the NHS represents kindness, reliability and protection. For many, it is more important than the royal family.
But with coronavirus cases rising fast, there was a risk that the NHS would not be able to cope. And it was interesting that even the right-wing Conservative government wanted to ensure its survival.
As the country locked down, the public responded. Messages saying 'thank you NHS' appeared across the country: children painted rainbow pictures and stuck them in their windows, banners were hung in towns, lorries had the message printed on their sides, and companies paid for newspaper advertisements. There was even 'thank you NHS' graffiti.
For 10 weeks, people would clap on a Thursday evening to show their appreciation for NHS workers. Later there was a 'Thank You NHS' book, a collection of stories by 100 mildly famous people.
The great thing about the NHS is that it helps everyone. But this means it is very large. It is the biggest employer in the UK with over 1 million employees. It is also the fifth-largest employer anywhere in the world. Unsurprisingly, this workforce does not come just from the UK – foreign nurses were part of the system right from the start; today there are also thousands of doctors and other experts from abroad (in a survey, 14% of NHS workers said they were not British). However, big is not always best. Treatment can be very slow. The care is great in some places and terrible in others. And it has all become very expensive. This is partly because of longer life expectancy, and partly because of rising treatment costs.
The NHS now costs the country £150bn a year through general taxes, about 30% of all public spending. But modernisation is desperately needed. There is a constant threat of privatisation, or change to a system of personal health insurance.
Some changes made because of coronavirus could help to save the NHS. Lockdown meant there were suddenly huge upgrades in technology and data sharing so that social distancing could take place. In April 2020, one medical professional commented that it had taken "two-and-a-bit weeks to achieve more than we have achieved in 20 years". It is now much easier to get medical appointments over video call, for example.
One thing seems certain. It might be expensive, but Britain wants its NHS.