How dangerous is Britain?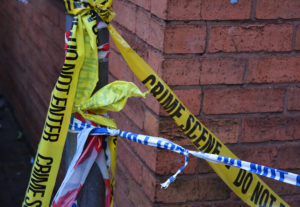 Crime figures come from county police services. In the year ending March 2019, there were a total of 701 homicides in England and Wales. This includes murder and unplanned killing. This is a rate of about 12 homicides for every 1,000,000 people.
Scotland's crime rates are usually lower than those of England, but figures cannot be compared because of the way the data is recorded. For example, in Scotland total homicides for 2018/19 were 102 (18 per 1,000,000 people). However, this figure includes death by driving, which is not included in the England and Wales figures.
Gun crime
There were 9,787 crimes involving 'firearms' (things that shoot) across England and Wales in 2018/19. This is 0.2% of all recorded crime (excluding fraud). There were 67 deaths.
The total figure includes air weapons (3,028), imitation guns/airsoft guns (1,407) and 'other firearms', such as CS gas and pepper spray (737). The firearm was only fired in half of cases.
Most crimes were recorded in urban areas. The top 3 areas were:
West Midlands (0.24 gun crimes per 1,000 people; includes the cities of Birmingham, Coventry, Wolverhampton and Stoke-on-Trent)
London (0.23 per 1,000)
West Yorkshire (0.21 per 1,000; includes the cities of Leeds, Bradford, Huddersfield and Wakefield)
Knife crime
In 2018/19, there were an average 0.79 offences using a knife or sharp tool per 1,000 people in England and Wales in the year to March 2019. There were 250 deaths.
The places with the highest crime rates were:
London (1.68 knife crime events per 1,000 people)
Manchester and surrounding area (1.29 per 1,000)
West Midlands (1.18 per 1,000)
West Yorkshire (1.15 per 1,000)
Violent crime with injury
'Violence with injury' data excludes killing, but includes major and minor injuries. In England and Wales, the 3 places with the most offences recorded in 2018/19 were:
Lancashire: (13.4 'violence with injury' events per 1,000 people),
West Yorkshire (12.7 per 1,000)
Humberside (12.1 per 1,000)
Cambridgeshire had the lowest rate at 6.0 per 1,000 people. The rate in London was 8.9 per 1,000 people.
Terrorist attacks
Between 1 January 2001 and 31 December 2018 there were 103 deaths from terrorism in Britain (excluding 34 deaths in Northern Ireland). This gives an average of fewer than 6 deaths a year.
Read more about crime levels:
Image: Ashley Van Dyck/Dreamstime