Situations where the police can help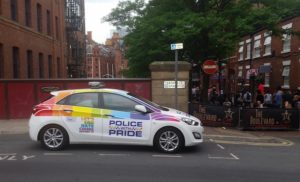 In general, the police in Britain are thought of as friendly and helpful to the local community. They are independent of government and must follow the same laws as everyone else. Most police do not carry guns.
The police have 3 main functions. As well as dealing with crime and dangerous situations, they also work to prevent crime and help to keep things peaceful.
Crimes
As well as obvious crimes such as violence, sexual crimes, burglary or theft, you can also contact the police about a range of non-violent crimes such as fraud, scams, cyber crime and offensive behaviour targeted at your race, religion or sexuality.
Preventing crime
You don't have to wait until a crime has been committed before you contact the police. You can also contact them to help prevent situations occurring or getting worse. For example, you could contact the police because someone is frightening you. This could be threats or harrassment, perhaps from a housemate, partner or your boss. Or you might want to contact them because you have noticed something suspicious or dangerous.
The police also work to make life safer for you in a more general way. This could be advice about home or vehicle security, visiting schools to discuss drugs, or helping Neighbourhood Watch teams (local groups that help reduce burglaries and other crimes in their area).
Keeping the peace
The police can help if there are things that are disturbing you or your area (anti-social behaviour). Perhaps there is a group of people who often hang around outside your home, someone you see driving dangerously – or even someone whose regular bonfires make it difficult for you to open your windows.
How to contact the police
If there is a personal or property emergency, phone 999. For everything else, you can call 101, or report the problem via the website of your local police service. (If you don't want to give your name, ring Crimestoppers on 0800 555 111) instead.
If you want to speak to someone in person, go to your local police station. In many town centres or at public events, you will also find Police Community Support Officers (PCSOs) walking around – they are usually happy to answer questions.
Usually when you contact the police, they will listen to your problems and will try to help. This might be advice, or the situation might be solved with a phone call or visit to the person causing the problem. If necessary, they will make an arrest. If there is a person who keeps making life difficult for you, the police might get other teams involved, for example the Department of Health and Social Care (sometimes known as Social Services).
Public confidence in the police
Data from the government's Crime Survey of England and Wales for the year ending March 2019 reported that 75% of people had confidence in their local police. The figures were similar for men and women. These levels remained similar during 2020, despite media reports of the police being too strict about enforcing coronavirus restrictions.
In the report, people from white or Asian backgrounds had the highest levels of confidence (75-79%). Those from mixed or black backgrounds had the lowest levels of confidence (68-70%). There is evidence of racism: for example, a higher proportion of black men in prison than are present in the general population, and racist incidents have been recorded within some police services, including a higher use of Tasers on suspects.
One of the most unpopular aspects of the police is that it is legal for them to stop and search people on the street. The reason is usually to prevent knife crime or drug dealing, but data shows that people from minority backgrounds are stopped more than those from white backgrounds. This stops some communities having a good relationship with the police. Speed cameras are also very unpopular because they are seen as unfair.
Image: Jasminelove/Dreamstime