How to make your clothes match the job you're going for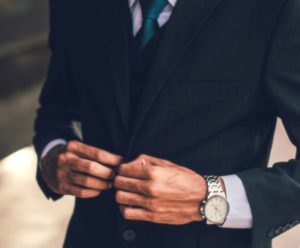 If you've got a job interview arranged, you've probably started to think (and maybe worry) about what to wear.
The clothes you should wear to a job interview depend on the job you are going for. For most jobs, choose something clean and quite smart (business casual style is good). For creative jobs, clothing is usually less formal and more imaginative.
For some jobs, something very smart is more usual. For example, people dress in a fairly conservative way for jobs in law, banking, finance or fine art. This doesn't mean you need to be in a suit every day (in fact many places have 'dress-down' days each week), but it is a good idea to look smart, especially for an interview. There are many different ways to look smart. If you're not sure what to wear, here are some examples that would work well for law or finance:
MEN: a plain suit in dark blue or dark grey with a white shirt and a plain tie. If you want to work in the City of London, avoid white socks and brown shoes – for some reason these have a very bad reputation. Make sure your suit fits really well. Dry cleaners often offer alteration services if you need the sleeves or trousers shortened.
WOMEN: think elegant, so heels at mid-height or below, skirt knee-length or below, nails not too long. For example, a tailored skirt or trousers with a blouse and a jacket.
Prepare for your interview by researching the company and the industry. Make sure you get to your interview early. Use a firm handshake and make eye contact. Don't take food or drinks.
Your interview might be held in a café or pub. Although this can seem strange, many offices don't have a private meeting room. It can also make the interview feel less formal.
If you want to learn how to write application forms and do well in interviews, there is a free online course from FutureLearn.
MORE INFORMATION: If you don't have much money to buy clothes, charity shops are good places to look – for example, you can often buy a suit for less than £10. If you are currently unemployed, there are charities that can help with the cost of clothing. They often also help with interview technique. You need to be referred by another organisation, for example a JobCentre Plus, women's shelter, prison service or community centre. If you think you would qualify, ask the organisation for help.
Image: Hian Oliveira/Unsplash