Why Britain is famous for beautiful gardens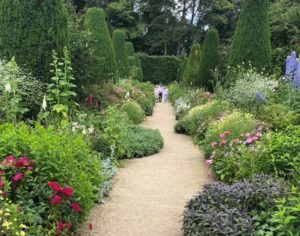 Britain is famous for its gardens. Places like Sissinghurst, Hidcote and Stourhead have an international reputation. Because of this, the British are sometimes called "a nation of gardeners".
This phrase makes it sound as if all British gardens are wonderful. But to anyone who has actually seen ordinary British gardens, this will seem strange – because most are just grass, a shed and some bushes. So what's the story?
There is no denying that gardens are very popular. A survey in 2017 found that 55% of people would not consider renting or buying a home without a garden. This is because gardens offer ways to relax and make friends. People love doing small jobs in their garden, talking about gardens, watching programmes about gardening and visiting garden centres. This isn't always because they love digging and weeding however – most garden centres are a good day out, with gifts, books, clothing, food and a café (find a list of garden centres on the British Garden Centres website).
During the COVID-19 coronavirus lockdown, gardening became even more popular. Garden centres were shut at first, so some people swapped plants or seeds with neighbours. Others enjoyed watching the wildlife or bought things that didn't need the effort of actual gardening, for example hot tubs or table tennis tables.
Perhaps the reason we're famous for our gardens is because of our climate. Plants from different places can grow here quite easily, so many different types of garden are possible. If people want to, people can create something amazing, even in their back yard – a talent known as having 'green fingers'.
It is worth remembering that beautiful gardens of all sizes do not happen without time and effort – and often lots of money. Throughout history, gardens were a way for kings, queens and rich people to show their power and wealth. Expensive exotic plants, expensive garden designers (like Capability Brown) and the efforts of hundreds of workers were needed to keep their gardens looking smart. For example, it's worth remembering that before lawnmowers were invented, lawns had to be cut by hand.
If you love looking at gardens, the Great British Gardens website has a very comprehensive list. Other places to find great gardens: