Where to walk and what to know before you go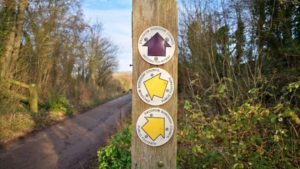 Going for a walk is the most popular outdoor leisure activity for British people.
Going for a walk is different to hiking – to us, hiking suggests something long-distance, perhaps with special boots and difficult landscape. Going for a walk is less fancy, just put on some trainers and head out for 20 minutes.
Going for walk in Britain is very easy, costs nothing and usually requires no special preparation. There are lots of places to explore: footpaths in Britain total more than 240,000km (150,000 miles), which is 6 times the circumference of the globe! Some paths are in cities or towns, some go by the sea, others go through woods and fields or up mountains.
In England and Wales, the paths are marked with green signs or a small yellow arrow saying 'public footpath' (like the one pictured). In Scotland, look for green signs. Sometimes you might see blue arrows – this marks a bridleway (a path where riding a horse or bicycle is allowed). Walking is also allowed.
There is also 'open access land' where you do not need to stay on a path, even if it is private land. This includes mountains, moors, common land and some coastal areas. Please follow the Countryside Code (see below).
Woodland walks
Britain is one of the least forested countries in Europe. However, there are some beautiful areas of woodland that can be visited. One option is Forestry Commission sites, which are owned by the government. There are also woods owned by the Woodland Trust (the UK's largest woodland conservation charity) and the National Trust (also a charity).
These websites have details of woodland where you can walk:
What is the Countryside Code?
The Countryside Code is a set of rules the government has made for people who use our countryside. It is to try and keep the countryside beautiful for everyone, for example by not dropping litter, not having fires or BBQs, and bringing a bag for dog poo (and then placing it in a bin). The main things to remember are: Respect, protect, enjoy – and nod or say 'hello' to people you meet while you are walking!
It is a good idea to wear waterproof boots for country walks – farmers can suffer severe crop damage when people avoid muddy or wet paths because they are wearing the wrong shoes. It is also important to keep your dog on a lead if there are animals in the fields because dogs can make them very stressed. It is illegal for your dog to chase or bite farm animals.