What to look out for when walking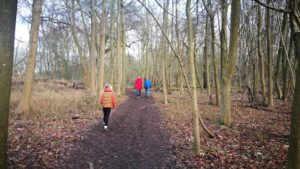 The British countryside seems calm and safe, but going for a walk can be more dangerous than you might think. As an example, the Lake District is a very popular place to walk. However in 2015, 12 people died from falls (or by drowning), 74 people broke a bone and 63 got lost.
So if you are thinking of going for a walk, this is what you need to look out for:
Be careful near cows, especially with calves. On average, 5 people a year are killed by cows – sometimes just from crossing fields. Male deer are also dangerous in the autumn.
In some heathland or grassy areas you might find snakes – but these are not usually dangerous. Only the adder (Vipera berus) is deadly, but with quick medical attention you will be OK.
More serious is the danger from our mountains and high hills. Although they are not very high (on a global scale), people die every year in Snowdonia, the Grampians and Cairngorms. The weather can get very cold (even in summer) and it is easy to fall or get lost. Always wear walking boots and warm clothes. You should also take a paper map, compass and torch – even a winter survival kit. Tell people where you are going and check the weather forecast. Do not rely on your mobile phone!
If you are going into an unfamiliar place, consider downloading the what3words app. This is a simple way of explaining your exact coordinates so people can find you in an emergency.