How to understand car adverts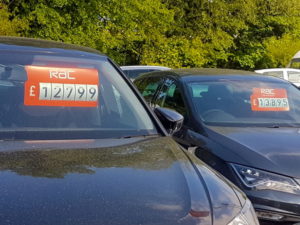 Information about cars can be difficult to understand. Here are explanations of the most common descriptions:
3dr: 3 door
5dr: 5 door
2×2: Two seats in the front, two small seats in the back
4×4: 4-wheel drive
AC: Air conditioning
BHP: brake horsepower
DVLA: Driver and Vehicle Licensing Agency
FSH: Full service history
HP: Hire purchase
HPI check: a vehicle history check. See www.hpi.co.uk
LPG: Liquid petroleum gas
MOT: An annual safety test
PCP: Personal Contract Purchase
PCH: Personal Contract Hire
PX or Part Ex or p/x: Part exchange. If you have a car already you can swap it for the new one (you might have to pay some money as well)
Spec: Specifications
Service: a general health check on the car, usually done once a year
Valet service: car cleaning
Valet parking: someone will park the car for you
VED: vehicle excise duty (vehicle tax)
VGC: very good condition
[…]-reg: Shows the year the car was registered.
Write-off: A car that has so much damage it is not worth the insurance company paying for repairs. There are 4 categories:
 -CAT A (Category A): So badly damaged the car must be crushed.
-CAT B (Category B): The car must be crushed, but some parts can be reused.
–CAT C (Category C): The old name for Category S.
–CAT D (Category D): The old name for Category N.
– CAT N (Category N): There is damage that needs repair. This might be just cosmetic, or it might be a problem with the brakes or electrics.
-CAT S (Category S). The car is not safe until it has been professionally repaired.
Hatchback: A car with a big door to the boot
Coupe: 3-door car with 2 seats. It might have 2 small seats in the back as well (2×2)
Crossover: A mix between an SUV and a hatchback
Saloon: The boot is separate from the seating area
Estate: Like a hatchback with a very big boot
Convertible: Has a folding roof
MPV: Has 5 or 7 seats, and large luggage space. Sometimes 4-wheel drive
SUV: sports utility vehicle. Usually 4-wheel drive