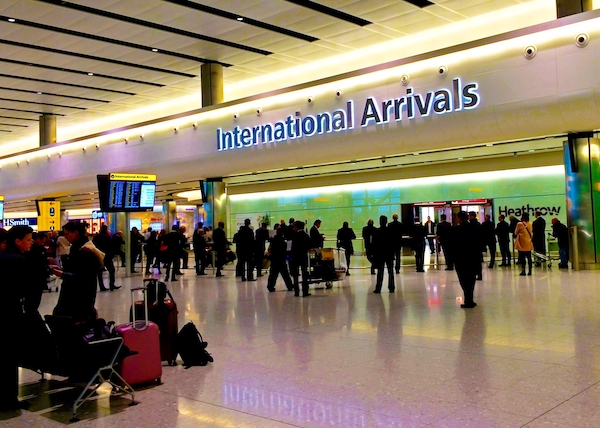 What you need to know when you are moving to the UK
If you are thinking of living in the UK or have just moved here, you are at an exciting time in your life. Moving to another country can be a bit scary, however this quick guide to moving to the UK should help to make it easier.
First of all there's the name. Technically the country is 'the United Kingdom of Great Britain and Northern Ireland', but it's usually just called the UK. Britain isn't the same thing as the UK – it is the name of the big island that is home to England, Scotland and Wales. Northern Ireland is also part of the UK, it is on a separate island to the west that also has the Republic of Ireland. Each one has slightly different rules about aspects like healthcare and education.
The main UK government website is www.gov.uk. It has everything you need. It is very clear and easy to use. The Home Office is the department in charge of immigration, visas, the police and fire service. The main website for the Home Office is www.gov.uk/government/organisations/home-office
Life in the UK is probably a bit different to your own country not just because of language or customs, but also because every place has their own systems and ways of doing things. This website should cover everything you need to know. Head to the Topics page to choose the subject you want to explore. Or read on – this is a quick overview of the main points you need to know when you move to the UK.
Moving to England, Scotland or Wales from another country
Living in England, Scotland or Wales probably means you will need a visa. Most people need a visa to live, study or work in the UK. You might also need a visit for a visit, especially if it is more than a few weeks. Since 1 January 2021, this includes people arriving from countries across the world, including the European Union and  Iceland, Liechtenstein, Norway and Switzerland. There are some people who do not need a visa, for example, foreign diplomats. Irish people do not need a visa either.
There are many types of visa. The best one for you depends on your personal circumstances, what you want to do while you are in the UK – and for how long you want to stay. You will probably also need money. For most UK visas, you must prove you have enough money to support yourself while you live in the UK.
Consider getting help from a UK immigration lawyer because if you get the wrong type of visa, you might not be able to change to another type later on. The main government website can help you find out more about the type of visa you might need.
Which documents to bring with you
You will need to bring some documents with you. The number and type of documents you need depends on your visa. Any official documents in a foreign language will need an official English translation.
Bring these with you as a minimum:
Your passport
Marriage/divorce/civil partnership certificate (if you have one)
Driving licence (if you have one)
Birth certificate
Bank statements, financial statements, pension statements or property ownership documents to show what assets you have
How much money you will need
You need to think carefully about how much money to bring. If your visa does not allow you to work, you must be able to support yourself. These are the sort of things you will need to think about:
You need to pay for somewhere to stay (this might include a deposit, usually 1 month's rent).
You might need to buy items to set up your home.
You might need to pay the Immigration Health Surcharge towards health costs.
You might need to buy or hire a car, or you will need money for travel on public transport.
And of course you will need to pay for food and bills.
Even if you are in the UK to work, you might need £5,000-£10,000 to start. Be aware many jobs only pay you after you have worked for a month and it can take several months to set up a bank account.
Health insurance
If you are visiting the UK for less than 6 months, make sure you have private medical insurance in case you need hospital treatment or have to be flown home. This also applies to British citizens who live abroad.
If you are applying for a UK visa lasting over 6 months, you will probably have to pay a contribution towards medical care from the National Health Service you might need when you are here. This is called the IHS (Immigration Health Surcharge). The cost rose to £625 in October 2020. There is a cheaper rate for students. You must pay the full amount for the length of your visa, in one payment. Read more on the main government website.
You need to pay the IHS even if you have private medical insurance. Be aware the IHS will not pay to fly you home or give you private medical care. It also does not cover prescription charges for medicine, dental treatment, eye tests or help getting pregnant.
Some people do not need to pay the IHS. This includes people working in the health or care sector (including hospitals and care homes). It also people applying to live in the UK permanently, diplomats, victims of slavery or human trafficking, and asylum seekers (see the main government website for the full list).
Be aware that if you are living in England or Wales, after 1 year you will be automatically considered as an organ donor if you were to die. If you don't want this to happen, you need to register as a non-donor on the NHS Organ Donation website.
How to find somewhere to live
It can be very difficult to arrange property in Britain if you are living abroad. You might be able to find a friend to look at homes for you, but landlords will only allow the tenant to sign the documents. This means you will have to come to the UK before you move, or wait until you are living here.
You can make the process quicker if you can prove your 'right to rent' (for example you have your previous landlord contact details, rent statements, immigration documents and personal identification documents). Holiday rental properties (vacation rentals) are a good place to stay at first. It is often possible to stay 1-2 months and it can be simpler and cheaper than a hotel or hostel.
The rules in Britain for landlords are quite strict, so they are careful about whom they rent their property to. If you have just arrived in the country, it can be difficult to prove you will be a good tenant. If you can offer to pay the deposit and 3-6 months' rent immediately, you might have a better chance of finding somewhere to live. You might have to prove you have savings too. Make sure you (and anyone over 18 who will be living with you) can prove you are in the country legally.
Some rental agents are experienced in finding property for people arriving from abroad, so it is worth speaking to several agents to find the best one. Here are some other tips:
It can be easier to rent a place if you know someone in the UK who can be a guarantor.
If you are bringing a partner or family members with you, they do not have to be named on the tenancy agreement. This can make the process simpler.
Give the landlord/agent details of your qualifications and what kind of work you will be doing, because it is an important way for the landlord/agent to assess your application.
Choosing somewhere to live can also be difficult. Our guide to British cities should help. You can also read more about finding property on the RENTING & BUYING page.
How to get a bank account
Opening a bank as a foreign citizen is not very different to opening it as a British citizen, but because you have to prove your UK address it might take several months. Make sure you have a different way to get money during that time.
Everyday bank accounts are called Current Accounts. You can get Current Accounts in banks and building societies. It is a good idea to choose a bank that is on a high street near you because it will be easier to get help.
There are two main things you will need:
Something to prove your identity (your passport, for example)
Something official that proves you live in the UK (it must show your name and UK address). Depending on each bank's exact rules, this could be a letter from your bank in your home country sent to your UK address; a gas, electricity, home phone or water bill; a UK council tax bill; a UK driving licence
You can often start opening an account online on your bank's website. However, you usually must also make an appointment at the bank to prove your identity. This could take several weeks.
How to set up a UK mobile phone
The easiest way to get set up with a mobile phone is to buy a 'pay-as-you-go' (pre-pay) mobile phone SIM card. These SIM cards can be bought in small food shops or supermarkets. They will connect you to the UK mobile phone network. You don't need personal identification.
Using pre-pay mobile phones is a good idea because getting a mobile phone monthly contract can be difficult if you have only just arrived in the UK. This is because you will need proof of residence. The mobile phone company will also want to make sure you can pay for their services (your credit rating).
You are more likely to get a contract if you ask for a SIM-only deal. This is because you don't pay for an expensive phone handset, just the calls and internet data. It can be useful to choose a company with a shop near you. If you have any problems, it is often easier to get help, especially if you don't speak English well. Some companies will take a UK credit or debit card as proof of residence.
Which supermarkets are in the UK?
Britain has many different supermarkets. You can usually also buy online and get the shopping delivered to your home. When you go to the supermarket, you often need a £1 coin to use a trolley. You will get the £1 back afterwards.
These are the most common supermarkets:
Luxury:
Discount:
Local small shops:
Where to buy clothes
Obviously, the UK has lots of clothes shops, but it is useful to know about some of the national stores that sell basic items for the whole family. They all offer online shopping with home delivery and some have next-day delivery. Some are more expensive than others.
If you don't mind second-hand clothing, there are many charity shops that sell donated clothes. This often includes famous fashion brands. You can also buy online from these sellers.
Bringing pets
It is possible to bring your pet to Britain, however it might make it difficult to find a place to stay – many rental homes do not allow pets. The rules about what you need to do depend on the animal and where you are travelling from. It can take several months to complete the process. The main government website has more information about bringing pets to Britain.
Finally
BritainExplained has lots of information about daily life in the UK. Read more detail about migrating to the UK on the Moving to Britain page. You can also visit the Topics page to choose the subject you are interested in, or head to the guides for quick information, which should help answer any further questions you might have.