You won't believe how much it costs to buy one of these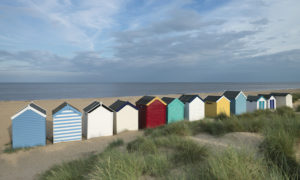 One icon of the British coast is the beach hut. Beach huts are the brightly painted wooden sheds you can find on many beaches. They are very small and cannot be lived in, they just give shelter or space to change clothes. Admittedly, this is very useful because the weather is not always good. It's nice to have somewhere that is out of the wind (and often rain as well).
People who own their huts make them very pretty inside, with lots of bunting (strings of coloured triangles) and nice chairs, and perhaps a tiny kitchen. Often people use them just to sit and watch the world go by.
This is all very nice and you probably understand why it would be fun to have one. But British people don't just like beach huts – they love them. They love them so much they are willing to pay a lot of money to have one. A lot of money.
One hut in Southwold, Suffolk, was on sale for £120,000 in 2015. There was no electricity or water supply and it measured about 3m by 3m. Only 3 years later, a similar hut was on sale for £150,000. However, the record was in 2020 when someone bought a hut in Dorset for £325,000 (admittedly, there was permission to stay overnight, but it was still more expensive than a 3-bedroom house in the same area).
If you'd like to experience a beach hut, but actually have something important to do with your money, it is possible to rent beach huts on most beaches. Go to the local council website or search online. Be aware you usually need to bring your own chairs, bunting and equipment – because it might be pretty, but it is just a shed, on a beach.
Image: Martin Parratt/Dreamstime