Great places to have a party in Britain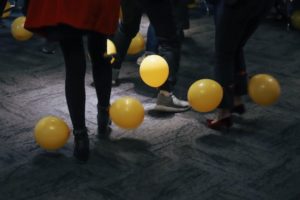 If you haven't got space to have a party in your own home, it might seem like it would be difficult and expensive to find somewhere else to go. However, luckily Britain is full of cheap venues – and some are free!
There are some things to think about:
How big do you need the venue to be? Small venues are easy to find, but it is even possible to have parties of 200-300 in sports clubs, for example. In some places, they will let you put a marquee outside.
How late do you want to stay? Some community venues have a maximum time of 23.00 or 00.00 because they are run by volunteers. Pubs often shut at this time too.
What are your plans for food and drink? In many places you must bring your own, which helps to save money and means you can serve exactly what you want. Or you could arrange a caterer instead.
What type of party do you want? Strangely, venues must have a licence if they want to allow music, dancing or drinking alcohol, so that's something to find out before you book.
Community venues usually have some kind of website (often on Facebook), but sometimes it is easier to visit them and look for signs about who to contact. Many are run by volunteers, so sometimes there is only a phone number. Some are run by the local town council, so you might find contact details on their website.
Look for these places near you – listed from the cheapest to the most expensive:
Pubs (some have a separate 'function room'): It's not unusual to be able to hire the function room of a pub for free, or for a very low cost. Many will also offer food. Of course, you would need to buy all your food and drink from the pub. Probably shuts at 23.00.
Village or town halls: usually very cheap to hire per hour (often less than £10), but usually close early. Some are very small.
Church halls: usually very cheap to hire per hour, but often close early. Some are large, some are very small.
Schools: many schools have good facilities that are not expensive to hire.
Community centres: usually cheap to hire and often close a bit later than village halls or church halls.
Sports clubs: Sports club buildings are popular place for events. They usually have more facilities and will open later than village halls etc. You could also try local football clubs, golf clubs and tennis clubs.
If you want something unusual, some town councils rent out swimming pools, sports facilities or theatres.
Restaurants: If you just want an event with a meal, a restaurant is a really good choice. Many have a private room, which you might even be able to hire for free.
Hotels: Hiring a hotel function room will be expensive, but it will also be more comfortable and glamorous than a community centre or sports club. Usually you can stay very late, and of course rooms are available too. Some hotels can seat up to 1,000 people – so it's a good option for really big parties.
Country houses: For the ultimate event, you can hire a whole country house. Often this means you can party as late as you like and you can also sleep there overnight. There are many country houses in Britain, and there are many different sizes, so you are sure to find one that is right for you. Houses are usually cheaper in very rural places. The cost could be at least £1,000 – and more likely a lot more than this.
Image: Raychan/Unsplash