Why there's a costume shop in every town...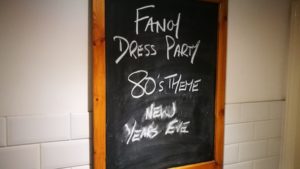 Most towns in Britain have shop selling/renting costumes and accessories – this is because of the British love of 'fancy dress' parties and events. Fancy dress parties are usually themed (for example '1980s' or 'Hollywood'). Everyone is expected to wear clothes that match the theme.
Many people like fancy dress because it gives them a reason to talk to strangers and feel less socially awkward. Others hate it, because being in a silly costume makes them feel more socially awkward.
Some people like fancy dress so much they join special groups and meet regularly in costume – for example the The Sealed Knot (recreating historic battles) or the Dickens Fellowship (remembering Charles Dickens).
There are also many events around the country where you can come in costume, for example the glamorous Goodwood Revival (classic cars from 1948-1966).
There are some unwritten rules to dressing up. In London, people generally try to look as sexy as possible. For parties in rural areas, people are more likely to make their costume and want to make others laugh (for example with awful teeth, ridiculous clothes or fake tattoos). One tip: wigs are always fun!