Some months are drier than others...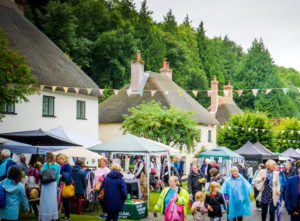 There is an old English saying: 'Ne'er cast a clout till May be out' – which means 'don't take your coat off until the end of May because you cannot trust the weather'. This is very good advice.
May is the perfect example of why British people talk about the weather all the time. It can be hot and dry – or very cold and wet.
A study of weather in the last 40 years showed that (on average) May was the driest and sunniest month, with 54mm of rain and 194 hours of sunshine. This might make you think May would be the perfect month to plan an outdoor party – especially because there are two public holidays.
Sometimes this is right. For example, May 2018 was hot. That year, the temperature on the public holiday at the beginning of May was 29°C and it was very sunny and enjoyable.
However, sometimes it is wrong. Very wrong. On the same weekend in 2019, it was only about 8°C. Some places even had snow. May can also be very wet. In 2017 and 2018, there were huge thunderstorms at the end of May and a few people died in floods.
The lesson? If you want to plan an outdoor event in advance, forget May! Choose July and August because they are more reliably warm and dry.
Image: Victoria Schmakova Ananchenko/Dreamstime