There are four sports that really draw the crowds in Britain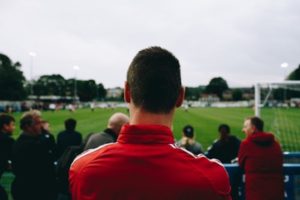 While millions of people watch all types sport on TV, there are some sports that are particularly popular in terms of people attending live events: football, rugby, horseracing and cricket.
Football (soccer) is by far the most popular. Hundreds of thousands of people attend games each week, but there are millions more who watch them on TV or follow football in the news. Football is a useful way to start a conversation throughout the country, with people often happy to share their opinion on the subject. The Premier League (the top 20 English clubs) is famous across the world. Scotland has a separate premier league, which is also followed by people throughout Britain. Many people will also support clubs that play in one of the lower divisions. It is not uncommon for people to have more than one favourite team, playing in different divisions.
Rugby Union and Rugby League are technically 2 separate sports. Together they come in second place in terms of popularity. At club level, both types of rugby have a much smaller following than football. The exception is international level. As an example, every year in February/ March, there is the Six Nations Championship where teams from England, Scotland and Wales compete alongside France, Italy and Ireland (a team combining Republic of Ireland and Northern Ireland). These games attract huge crowds and television audiences.
Horseracing in its many forms takes third place. As well as regional meetings, there are many high profile events, including Royal Ascot, Cheltenham and the Grand National. These events attract tens of thousands of people. Often people dress up in very smart clothes when attending these large race meetings. 'Ladies Day' at Royal Ascot is a highlight of the racing year.
Cricket is another game many people associate with Britain. This ancient bat and ball game has a history of over 400 years. It is played in the summer months when the ground is dry (the hard leather ball has to bounce before it is hit with the willow wood bat). Teams are usually found at village (or town), county and national level. The length of a cricket match can vary between two hours up to five days. These very long games are referred to as Test matches and take place between nations worldwide. Since 2021, there is a new type of match – the Hundred – with city-based teams and only 100 balls.
Image: Unsplash