What is a 'county'?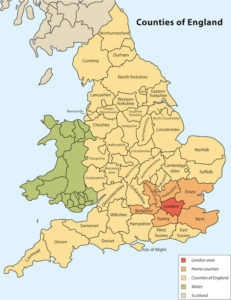 British counties are regions of the UK that are used as local government areas, but there can be confusion because the boundaries have changed over time.
The history of counties stretches back over 1,000 years. They were first called 'shires'. Shires were administrative areas created across England by the Anglo-Saxons, a group of people who arrived during the 5th century CE. After the Norman invasion in 1066, the word 'county' was used instead (from the French word 'conte', meaning 'land ruled by a count').
Over time, the whole of Britain was split into counties. Each had an adminstrative capital, called a county town. In the 1880s, each county was also given a 'county council' to deal with local issues like schools, social care and public services like the police and fire services.
To a greater extent, this system continues today. However, some counties (like Avon and Middlesex) have disappeared and others now don't exist except as a way to describe a region. For example, someone might describe themselves as 'from Bedfordshire'. Bedfordshire is an historical county lying north of London between Buckinghamshire, Cambridgeshire and Northampshire. However, there is no 'Bedfordshire' in local government – instead people live either in Bedford Borough, South Bedfordshire or Central Bedfordshire. Also, main cities have their own local government that is independent of the county the city is in. but Find your local council.
Sometimes, people still talk about 'the shires' – and not just because they like The Hobbit! Usually they mean the counties with lots of farmland, especially in the Midlands (the centre of England) and south west. The word 'shire' also lives on in many county names, such as Lancashire, Lincolnshire and Hampshire.
The Home counties
You might also hear people talk about the 'Home Counties'. This is the name given to the counties around London (Berkshire, Buckinghamshire, Essex, Hertfordshire, Kent, Surrey). They have this name because many middle-class people who work in London have their homes there. The prices are often cheaper than London and the houses are usually bigger. Some of the wealthier parts are called the 'stockbroker belt'.
Shortened names
County names can be long and difficult to say quickly. As a result, it is common for many county names to be shortened. This can be confusing because the short version isn't always the same as the longer version. Here is a list of some counties with their short versions:
Beds: Bedfordshire
Bucks: Buckinghamshire
Berks: Berkshire
Cambs: Cambridgeshire
Gloucs: Gloucestershire
Hants: Hampshire
Herts: Hertfordshire
Lancs: Lancashire
Lincs: Lincolnshire
Northants: Northamptonshire
Notts: Nottinghamshire
Salop: Shropshire
Staffs: Staffordshire
Warks: Warwickshire
Wilts: Wiltshire
Worcs: Worcestershire
Yorks: Yorkshire
Image: Micka/Dreamstime