What is the purpose of a folly?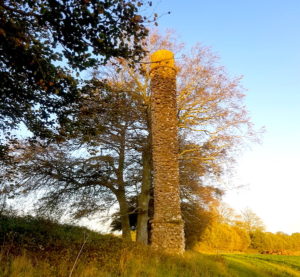 Across the British landscape you can find many small rather useless buildings – such as the one pictured. These buildings might be towers or turrets, or maybe just a small ornate hut, but they never seem to have any obvious purpose. So what are they and why are they there?
These buildings are called 'follies' and a clue to their existence is the fact they are usually found within the land belonging to a large country house. There was once a fashion among very wealthy people to create something interesting to look at on their large country estates.
According to the dictionary, a folly means 'something foolish'. It can also mean a 'tower or unusual building built as decoration'. There is logic to the connection between the two meanings because it seems silly to build something so ornate when in reality it is just an oversized garden ornament.
Yet there can be more to follies than this – because some were created to help local people during bad economic times.
Barwick Park, a large country estate near Yeovil in Somerset has four follies scattered across its parkland: the Fish Tower, the Rose Tower, Jack the Treacle Eater and the Obelisk. Reaching up to 23m high, they are a curious mix of architectural styles, built in the rough local stone. None has any real purpose (although two include holes for nesting birds), but apart from looking interesting, some say they were commissioned in the late 1700s to help unemployed workers from the local glove factories.
Another example is Peterson's Folly in Sway, Hampshire. The 65-metre tower was commissioned by a man called Andrew Peterson in 1879. After making a fortune in India, he decided to create a project that would employ local men. He also hoped to be buried inside the tower one day, although this never happened because his wife was horrified at the idea; his ashes were placed inside instead. It took 40 people 5 years to build the structure, one of Britain's first concrete buildings. Today it is used as a house with 4 bedrooms and 330 steps. The tower went on sale for more than £2m in 2020.
Another famous folly is in Oban, Argyll. McCaig's Tower looks slightly like a miniature version of Rome's coliseum perched on a hill. It was commissioned by a man called John Stuart McCaig in 1897, partly to help unemployed stonemasons.
However, not all follies have such good intentions. The incredible sparkling fake cave called the Crystal Grotto in Painshill Park, Surrey, was made in the 1700s simply for pleasure and to show off. It was just one of many follies built across the estate, part of owner Charles Hamilton's wish to create a magical garden. In his case, 'folly' was the right word: he fell into debt and eventually had to sell it all.
Whatever their origins, follies give an air of mystery and fantasy to the landscape, which is why so many people love them. These days, it is not just rich people who build them – they can even be found in the gardens of suburban homes.
The Folly Fellowship is a group of enthusiasts. Their website has a map of many follies across the UK and Ireland.