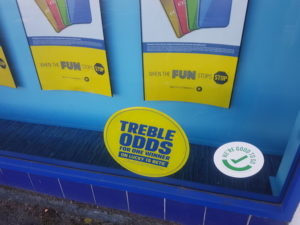 Gambling is a very widespread part of British culture. In its simplest form, you can find it at British fundraising events, including church fayres and school fayres. Examples are raffles, tombolas and wheels of fortune. These games are just for fun – there is little chance of someone becoming addicted and the prizes are often small, for example bottles of wine, tinned food, toiletries or sweets.
A more obvious symbol of British gambling culture are the betting shops found on most high streets (pictured). Betting shops are also known as 'bookies', 'bookmakers' or sometimes 'turf accountants'.
In betting, sport is dominant, particularly horseracing, dog racing and football. Many football teams are sponsored by betting companies, including about half of Premier League teams. The biggest betting event of the year is the Grand National horse race, with £300m-worth of bets placed.
Betting is not just about sport, however. You can also bet (or 'have a flutter') on future events, for example the chance of snow on Christmas Day, the name of the latest royal baby – or even the results of the General Election.
Gambling laws mean you can't see inside betting shops, but usually they have seats, TV screens showing sport and even hot drinks. For some people they become a place to socialise. This is why they continue to be popular, even though online gambling is available. In the same way, casinos and the game of bingo are enjoyed by thousands of people across the country.
For most people, gambling is just a way to have fun or for potentially making some money. However, some people become addicted, which can lead to debt and other miseries. This is estimated to cost the country over £1bn a year because of homelessness, mental health problems or social problems.
However, gambling also provides a lot of money – not only to gambling companies, but also in taxes for the government. Gambling companies are among the UK's biggest tax payers and nearly £3bn was raised in the 2018/19 tax year.
In 1994, the government started the National Lottery to raise money for good causes, including sport, culture and communities. The National Lottery and its scratchcards are now the most popular way for people to gamble. In 25 years, they have raised £40bn.
If you are worried you might be addicted to gambling or know someone who is, the charity Be Gamble Aware can help. You can call them on 0808 8020 133.