A very unusual sea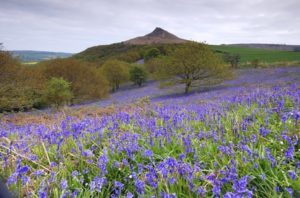 They call it a 'sea' of bluebells – the time in April and May when millions of blue woodland flowers all appear at the same time. It is one of the most spectacular sights in the British countryside.
It is also unusual. Over 50% of the world's bluebells are found in the UK, so you are unlikely to see this anywhere else.
Bluebells (Hyacinthoides non-scripta) are a delicate type of hyacinth with small flowers hanging from one side of a thin stalk. They are sometimes planted in gardens, although this is often a Spanish variety that is thicker and straighter. Don't be tempted to pick wild bluebells – they are protected by law.
The best displays of bluebells are found in ancient woodland areas that have not been disturbed for hundreds (or maybe even thousands) of years. Over time, the flowers will have multiplied until the ground is completely covered with them. Often, you can also find patches of bluebells in town and even cities, flowering below groups of trees that have been left alone despite all the changes around them.
Image: Trevor Pye/Unsplash