Places that offer financial help to people in need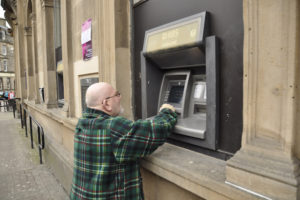 The UK government provides 'benefits' (state welfare payments) to people struggling with money, but usually only British Citizens, people with Indefinite Leave to Remain or Settled Status. The main benefit is called Universal Credit. The government has a page listing all the available types of help it offers on the main goverment website.
There are also other types of benefits, specific to certain situations. The independent organisation Citizens Advice is a useful place to find out more about these, especially if you have not been living in the UK for long. It can help you discover if you can claim anything. Be aware it is illegal to lie to claim benefits or to keep extra money if you have been paid too much.
Other ways to get financial help are:
The national charity Turn2Us can help people during difficult times. It has lots of advice about welfare payments. See the Turn2Us website.
You might be able to get help from a benevolent fund, depending on where you work (or have worked). Examples include people who work in bars or hotels, as nurses, or on the railways.
If you get state welfare payments, you might be eligible for lower price council tax. Contact your local council for details.
There is a special railcard (called the JobCentre Plus Travel Discount) for unemployed people looking for work. Go to the JobCentre Plus website to find your nearest JobCentre. Transport for London and some local bus companies also have special offers for people on a low income.
BT offers a low-cost telephone and broadband package for people on some state welfare payments. See the BT website for details – but check it is the best value deal for you before making a decision.
If you have a pre-payment electricity meter or gas meter and you cannot afford to pay for more energy, call your energy supplier to tell them. You might qualify for an emergency fuel voucher.
Some councils offer discount membership at their leisure centres, tennis courts and swimming pools if you are on a low income. Speak to your local council.
Some shops, restaurants and takeaways advertise food they are throwing out at the end of the day on apps such as Too Good To Go, Karma and Olio.
If you have a low income, you might be able to get money for school meals, school uniform, school transport and music lessons for your children. Speak to your local council.
Local councils might have a hardship fund for certain special circumstances. Check the websites of all types of council in your area, for example town councils, district councils and county councils.
Image: Jonathan Mitchell/Dreamstime